Real Estate Business
Introduction to our Real Estate Operations
Real Estate Business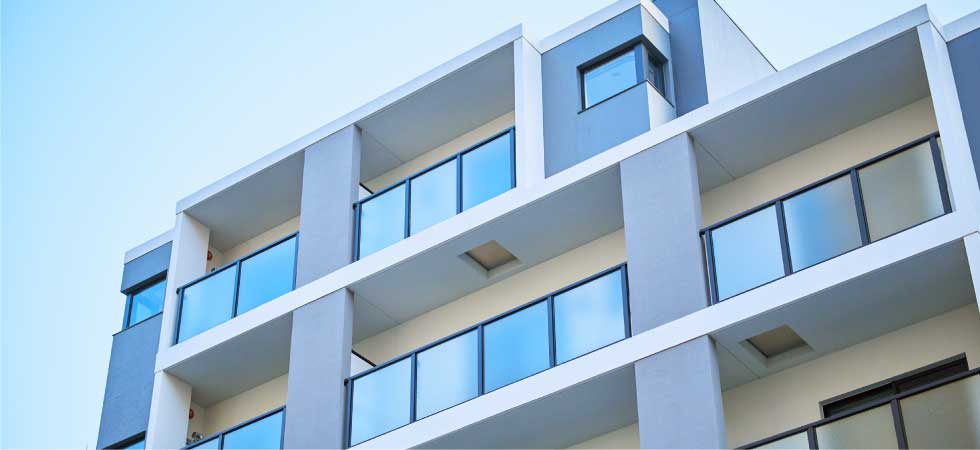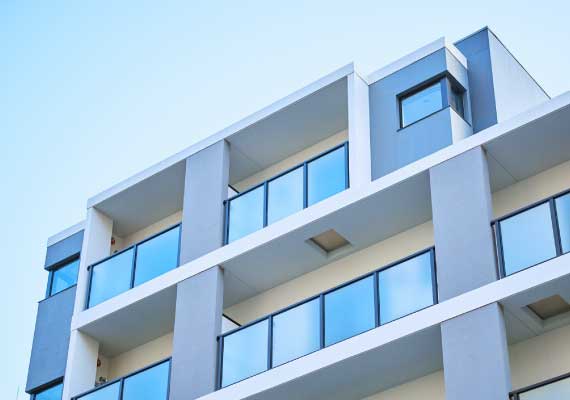 Significant amounts of Japanese real estate remain under-developed, yet only a slight shift of perspective would allow us to find numerous candidates for new value creation. The same can be said of the overseas market, where there are many examples of valuable real estate that Japanese people are not aware of. By adding Japanese knowhow and values it is possible to create new value for such real estate. Finance and real estate are two sides of the same coin, or to put it another way, they are like the two wheels of business value creation. By fully exploiting the exceptional marketing skills of our real estate specialists, together with our information network-building skills and superior financial know-how, Minato Management strives to deliver optimal client solutions that are tailor-made to individual requirements.
Three Challenges of the Real Estate Business
It is necessary to maintain an in-depth and accurate awareness of the area where strongly characteristic real estate is situated. We need to examine neighboring markets, case studies along with the surrounding environment, and create an appropriate exit plan that matches the area in question.
Real estate value can differ greatly depending on the type of real estate, such as whether they are in the form of residential buildings, office buildings, or commercial buildings. At the same time, construction structure, age, road connections and other specifications are also relevant. It is important to identify the individuality of these properties and draw up an appropriate investment plan.
It is also necessary to consider the market, economic and global affairs environment surrounding real estate. It is important to analyze market developments influenced by market size and urban planning issues in the target area, along with the balance between the domestic and overseas economic markets and the real estate market.
In order to respond to such challenges in our real estate business, Minato Management offers clients multilateral solutions, including proprietary real estate investment, real estate and trust beneficiary rights brokerage and consulting services.

Real Estate Operations
Real Estate Investment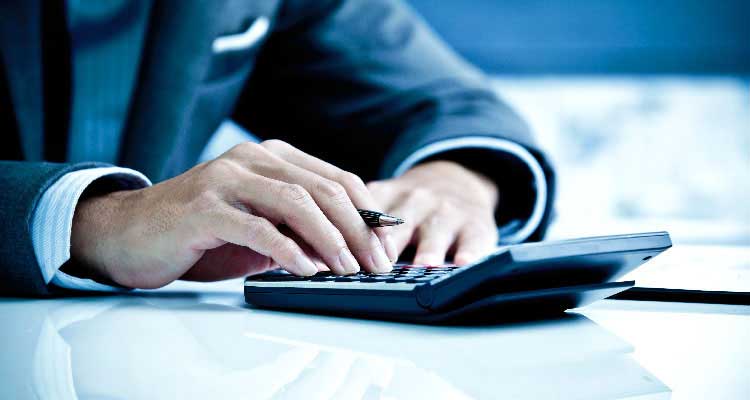 Minato Management can uncover the optimal enterprise value and business plan by exploiting our superior specialist skills and knowhow to analyze the real estate target area, real estate attributes and market conditions. Our consistent aim is to boost property value through proprietary investment or fund scheme-based joint investments with other investors.
Real Estate and Trust Beneficiary
Rights Brokerage Business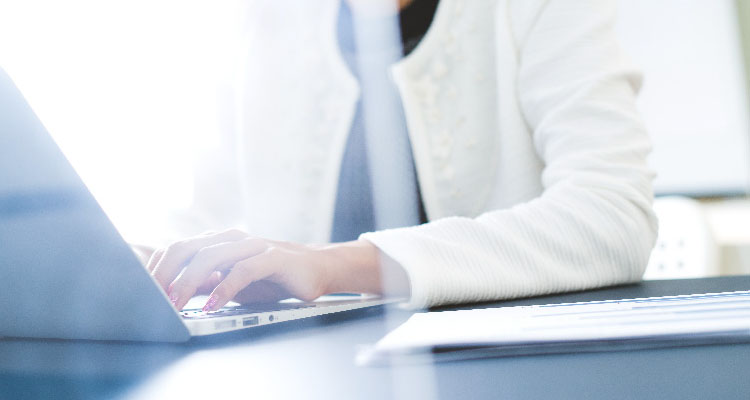 Minato Management leverages our extensive network to execute sound buying and selling strategies,
consistently operating from our clients' point of view.
Minato Management is a Registered Real Estate Broker,
and as a result, we can deal not only in physical
property transactions, but as a Financial Instruments
Business Operator, we also handle trust beneficiary
rights transactions and other related business.
Real Estate Consulting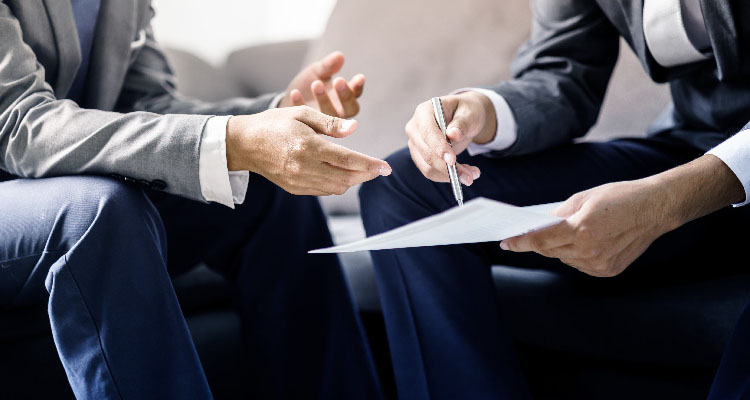 In order to achieve greater value for our client's real estate holdings, and higher value real estate investments, Minato Management engages in appropriate marketing and valuation activities, exploits our strengths in tax and finance to perform appropriate analysis, and draws up management plans suitable for our clients.
Multilateral Solutions
The strengths of Minato Management lie in our appropriate and sound value assessment capabilities, and the ability to create solutions that are not merely intended to simply pursue profits. Real estate is an important element of infrastructure rooted in a town and a nation, and we should not create business based on fleeting judgements alone. By capitalizing on our extensive experience and multifaceted knowledge of the world of real estate transactions, including finance, tax issues, and more, we are able to create optimized solutions that ideally match our clients' needs, from buying and selling specific properties to conducting deal-related fund raising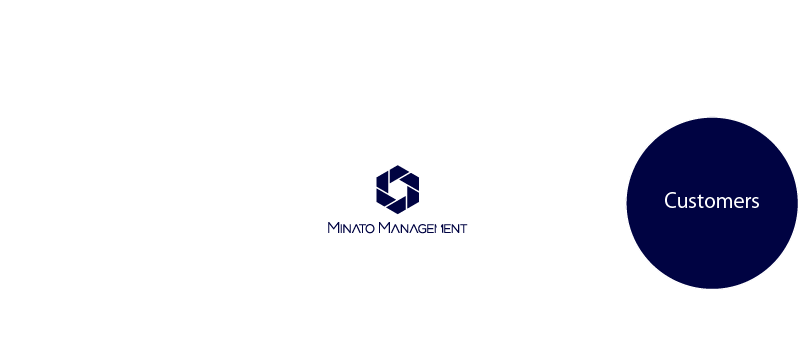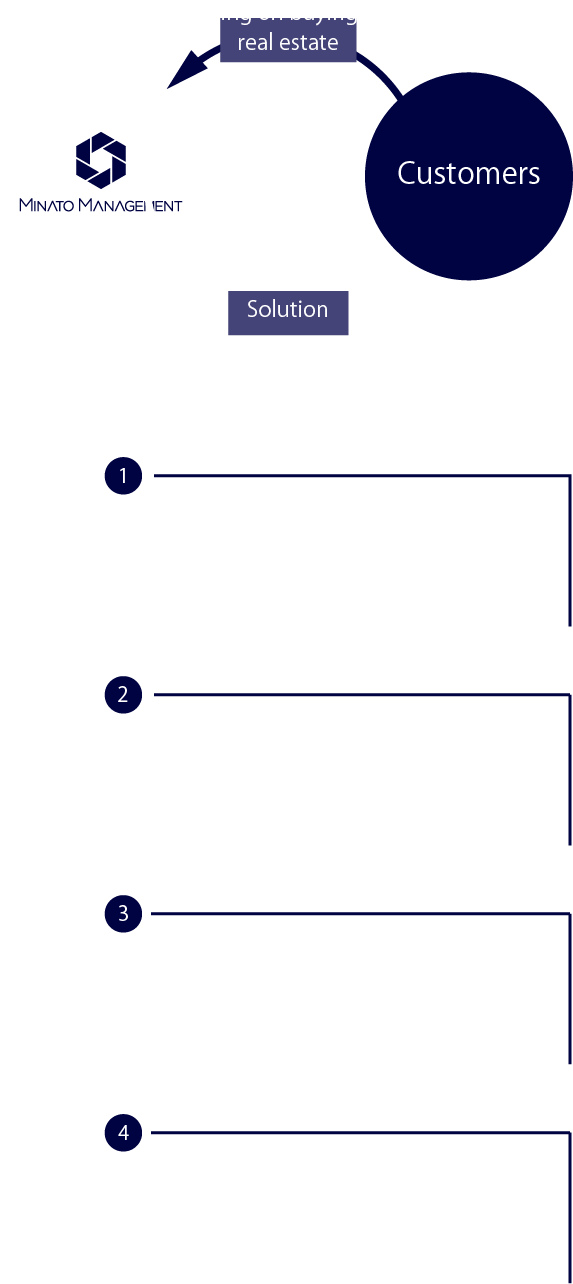 Major Achievements
Address
Types of real estate
Types of transaction
Transaction amount
Meguro-ku, Tokyo
Office building
Trust beneficiary right
JPY 500 million
Chuo-ku, Tokyo
Residential properties
Trust beneficiary right
JPY 600 million
Minato-ku, Tokyo
Office building
Trust beneficiary right
JPY 1,500 million
Nagoya-City, Aichi
Residential properties
Trust beneficiary right
JPY 200 million
Obu-City, Aichi
Commercial properties
Trust beneficiary right
JPY 6,400 million
Shibuya-ku, Tokyo
Office building
Trust beneficiary right
JPY 600 million
Nagoya-City, Aichi Obu-City, Aichi
Residential properties Medicalproperties
Trust beneficiary right
JPY 2,600 million
Machida-City, Tokyo
Residential properties
Trust beneficiary right
JPY 1,200 million
Nagoya-City, Aichi
Osaka-City, Osaka
Residential properties
Trust beneficiary right
JPY 7,800 million